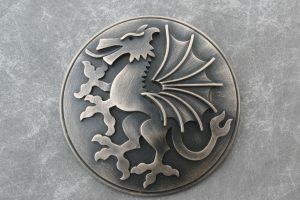 Order of the Dragon Cape Button, silver.
Provenance- Spanish, last quarter fifteenth century. Cape button of Pedro the Perforator.
An early portrait of Pedro by a little known Flemish master, possibly of the Memling school shows Pedro resplendent in a purple velvet cape, shot through with gold thread, a lining of midnight blue silk with an ermine trim, fastened at the neck with a large silver button sporting a rampant dragon. Always a bodacious dresser, this vicious dandy had his head separated from his neck in 1492.